---
Whereof And Why
Teesta Setalvad, a Padma Shri, is a rights activist fighting for victims of communal violence. She's the grand­-daughter of M.C. Setalvad, India's first attorney general.
Her last job was at Business India, her husband Javed's at The Sunday Observer.
They have been running the advocacy journal Communalism Combat.
Their Sabrang Trust and CJP have received Rs 9,74,75,100 over 10 years.
Of this, the contested amount is Rs 3,85,00,896, roughly Rs 38.5 lakh p.a.
---
What can explain the over-enthusiasm of the Gujarat police in investigating a case of alleged cheating involving amounts claimed to range from Rs 4 lakh to Rs 3 crore? Or the insistence, for that matter, of the Gujarat High Court that Teesta Setalvad and Javed Anand, perhaps India's best-known activist couple, who run Citizens for Justice and Peace (CJP), be arrested and subjected to "custodial interrogation" to probe the charges? This clumsy arm­-twisting seems desig­ned to pressure them into giving up the pursuit of charges of inaction and complicity against Narendra Modi, then chief minister of Gujarat, in the post-Godhra riots of 2002.
The unequal battle took a fresh turn this month when, minutes after the high court rejected their plea for anticipatory bail, policemen from Gujarat arrived at the couple's Mumbai residence to arrest them. The Supreme Court has since given them temporary relief. But a protracted legal battle lies ahead. For even as it declared that "personal liberty cannot be put in a ventilator", the SC reserved its order on Teesta and Javed's plea for anticipatory bail. It told Gujarat police that the couple "will not be arrested", but also ordered them "not to act smart" and cooperate with the police by producing all the documents. In fact, the court also told Mahesh Jethmalani, the lawyer representing the Gujarat government, that if the couple failed to cooperate, he could return to the court with a plea for cancellation of their bail.
And just about a week ago, an SC bench of Justice S.J. Mukhopadhyay and Justice P.V. Ramanna had found the charges against Teesta and her husband "grave". The judges felt the FIR against them was serious enough to merit investigation and made it clear that they were not inclined to entertain the couple's plea for protection against possible arrest. They did, however, extend the bail for a week while adjourning the hearing till February 19. Barely 48 hours before the February 19 hearing, the Chief Justice of India directed that the plea be put up instead before Justices Dipak Misra and A.K. Goel. Newspapers reported that neither of the judges on the original bench had sought to be recused.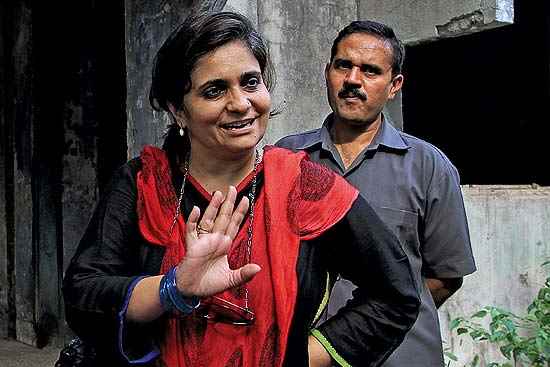 The charges of cheating and embezzlement against the couple seemed flimsy and brazen. The complaint was filed by a few former residents of Gul­berg Society, a housing complex where 69 Muslim residents were killed during riots in 2002. They said the couple had promised to turn the complex into a memorial and museum and collected donations, but neither had the museum come up nor had they paid them any part of the donations received.
Teesta and Javed say the proposal to put up a memorial was mooted around 2007, but the plan was abandoned in 2012 when donations turned out to be far short of the target. Prices of real estate in the Hindu-dominated area of Ahmedabad had gone up four times since 2002, they pointed out, and the donations received for the museum amounted to a paltry Rs 4.5 lakh, including Rs 50,000 from abroad. Realising that it was not possible to buy the flats from occupants at market rates, the couple obtained from members of its housing cooperative society their no-objection to diverting the funds for legal aid in cases of riot victims that they were fighting.
 

 

 

 

"This is the seventh instance when the state has lodged an FIR against her. On all occasions SC protected her liberty"

Kapil Sibal, SC advocate, ex-law minister

 

 

 

 
The couple also pointed out that the state had fallen back on an antiquated law that prevented members of one community from selling their housing property to members of another community. Many original residents of Gulberg Society, Muslims largely, have moved out. And since it is surrounded by Hindu colonies, other members of the minority community were unwilling to buy the property and live there.
To a question from the bench of Justices Misra and Goel, Jethmalani admitted that Setalvad had been summoned twice for questioning and that she had turned up on both occasions. But, he complained, her replies were "stock replies" and not very helpful. The bench then wondered why her custodial interrogation was necessary since the charges appeared to be merely about discrepancies (or irregularities) in accounts.
Gulberg Society was where 69 people were killed, including former Congress MP Ehsan Jafri. Jafri's widow Zakia had named then chief minister Narendra Modi in her letter of complaint, and though the SIT did not find enough evidence to prosecute him, the Supreme Court's  amicus curiae Raju Ramachandran felt the evidence was substantial. Setalvad's appeal against the SIT's finding is also pending.
CJP has fought or continues to fight eight cases of the post-Godhra riots. These cases involved some 267 people killed in rioting. In six of the eight cases, 126 have been convicted so far and 196 acquitted. Of the two pending cases, one is that of the Gulberg society.
"What concerns me is that if Gujarat police arrest Teesta and Javed, how will you ensure that they will not be threatened by those who got arrested only because of their efforts? Will they be protected from these people?" asks Tushar Gandhi, activist and great-grandson of Mahatma Gandhi. "One fine day there will be no one left to raise voices."
Sandhya, who represents Hum Azad­iyon Ke Haq Mein, a Mumbai-based plat­form of rights groups, says that all the accounts of CJP and its Sabrang trust have been submitted all these years to the charity commissioner, the home ministry, income-tax authorities, donor agencies and two sets of auditors. "No one ever raised any objection to the accounts submitted so far," she says.
Dilip D'Souza, author of the Curious Case of Binayak Sen, says there are parallels between Sen's case and that of Teesta. "In Sen's case, the cops had listed some amounts, different on different days, and showed them as misappropriation. They had even shown a government project notification he had saved on his computer as evidence for irregularity."
It is not going unnoticed that officials—ministers and police officers—accused in different cases, such as the Naroda Patia massacre, the Ishrat Jehan fake encounter case and the Sohrabuddin fake encounter case, have not only been getting bail, they are being reinstated in their original or even better ranks. "After Narendra Modi became prime minister, one by one, they are coming out," says filmmaker and activist Anand Pat­wardhan. He says CJP has been a thorn in the flesh of perpetrators, referring to Teesta and Javed's persistence in fighting the post-Godhra riot cases.
Supporters of the couple who demonstrated in Mumbai and stood in solidarity for them have been saying that they still have faith in the judiciary and are hopeful that justice will be done. The Supreme Court has not disappointed them.
---
Chosen Target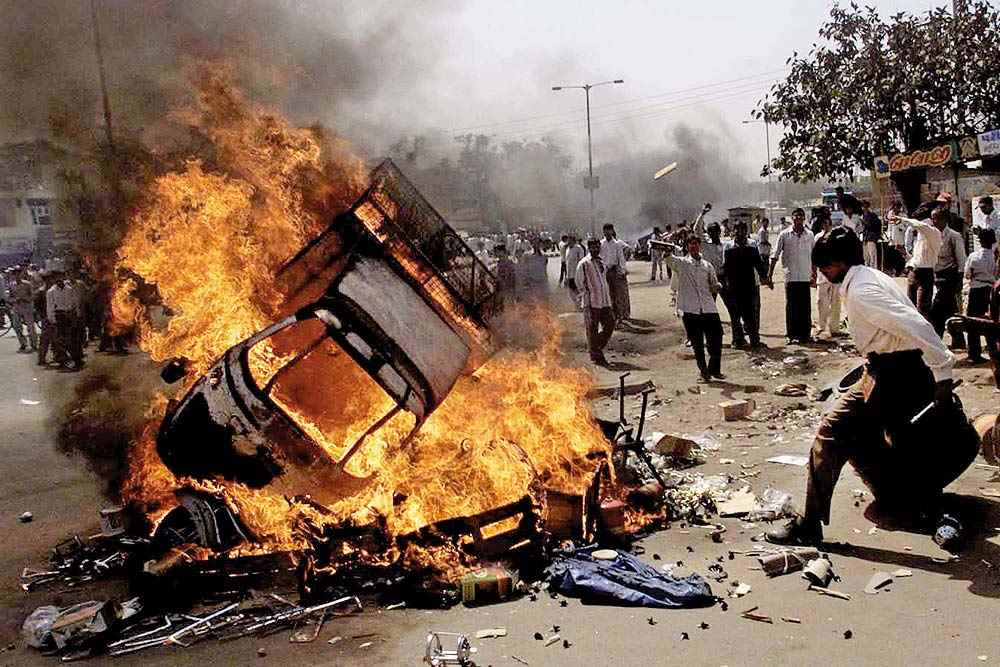 2002 Citizens for Justice & Peace set up by Teesta Setalvad and husband Javed Anand among others to ensure justice for the victims of Gujarat riots.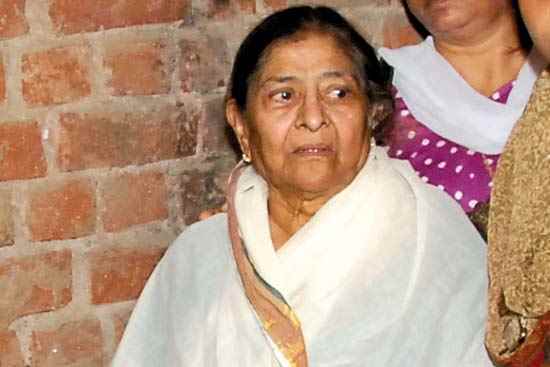 Zakia Jafri
2007 CJP proposes to set up a Museum for Resistance at Gulberg Society after purchasing the flats at market rates from the occupants/owners.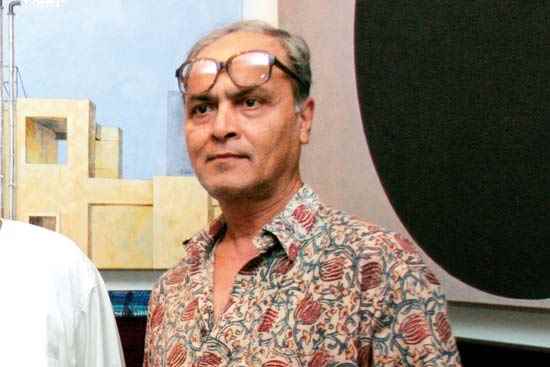 Javed Anand
2012 The plan for the museum and the memorial abandoned after donations, Rs 4.5 lakh according to the couple, fall far short of the target.
2013 A few 'former' occupants lodge complaint that the couple had neither set up the memorial nor given them a share of the donations collected in their name.
2014 Sessions court rejects couple's plea for anticipatory bail. An appeal filed before the high court. Police seek documents and accounts, which are supplied.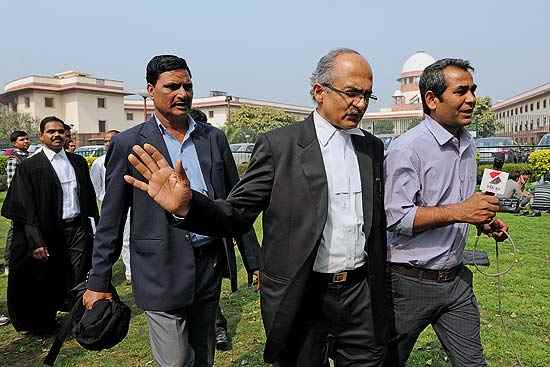 Prashant Bhushan
2015 After nine months, the high court rejects appeal and police arrive  within minutes to arrest couple in Mumbai. Supreme Court steps in to extend bail period.
---
Source: http://www.outlookindia.com/article/Chokehold-Of-The-State/293485
Last modified on Sunday, 22 February 2015 15:09